113 Londoners charged after EncroChat was cracked by police
Author:
Rafi Benady

| Monday 13th July 2020
More than 100 people, including London's 'untouchables' have now been charged by the Met Police as part of "Operation Eternal" following the cracking of a Criminal Messaging App "EncroChat".
Encrochat is an encrypted, military-grade communications network used by 60,000 people worldwide, largely for criminal purposes, and has proved to be impenetrable until now. The EncroChat website has already vanished but is still visible on the Wayback Machine, complete with assurances of watertight security! Messages intercepted on the platform included lists of drug prices, discussions about taking revenge on competing gangs, arrangements for money laundering and "ways of enforcing drug debts".
The force says it is "the most significant operation" it has ever launched against alleged serious and organised crime and forms part of the National Crime Agency's (NCA) Operation Venetic.
The Met Police said it was their "most significant operation to date," calling it a "game-changer" which will bring in results and arrests for months to come.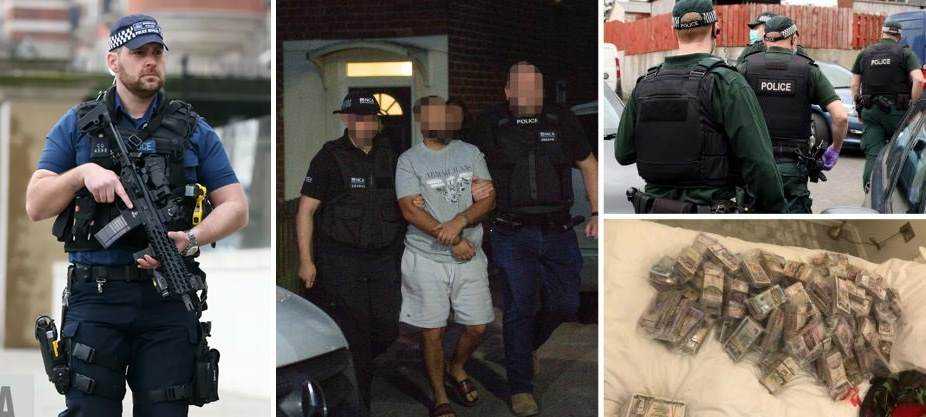 Now, 113 of those arrested in London have been named and charged, with 34 belonging to residences within south east London.
Here is the full list of those charged as released by the Met.
Sean Skinner, 41, of Nightingale Vale, Greenwich SE18, was arrested on June 19, 2020. Charged over firearms offences and supply of Class A and B drugs.
Michael Ematuwo, Effra Road, Lambeth, SW2 was arrested on June 15 and has now been charged with murder.
Cavan Arnold, 23, of Ripon Road, Greenwich SE18, arrested on April 25, 2020. Charged over firearms offences and supply of Class A and B drugs, possessing the proceeds of crime (POCA), and other.
Danny Richings, 29, of Harvey Gardens, Greenwich SE7, was arrested on July 1, 2020. He was charged with being concerned in the supply of Class A drugs, possession with intent to supply (Class As), POCA and another offence
Daniel Dalligan, 53, Station Road, Dartford, Crayford, Bexley DA1, was arrested on June 14, 2020. He has been charged with being concerned with the supply of Class As and POCA
James Skilling 29/06/1988 32 Pelton Road, Greenwich SE10 was arrested on 09/06/2020 He was charged with supplying class as, POCA and other
Jody Hall, 46, ofCarters Hill Close, Mottingham, Bromley SE9, was arrested on May 4, 2020, and was charged with firearms offences
Augustus Beckley, 30, Flat Iron Square, Southwark SE1, was arrested on 22 June 2020, and was charged with being concerned in the supply of Class A drugs, and possession with intent to supply (Class As)
Charlie Moran, 28, of The Avenue, Bickley, Bromley BR1, was arrested on April 16, 2020, and was charged with possession with intent to supply (Class A), POCA and another crime.
Anthony Dominy, 63, of Little Heath Road, Bexleyheath, Bexley, DA7. He was arrested on July 14, 2020, and has been charged with being concerned in the supply of Class As
Anthony Raper, 29, of Kidd Place, Greenwich, SE7, was arrested on June 30, 2020, and charged with being concerned in the supply of Class As and Bs
Cavan Hanna, 50, of Pinewood Place, Dartford, Kent, DA2, was arrested on June 14, 2020. He was charged with supply of class As
Frankie Clark, 21, of Musgrave Road, Greenwich SE18, was arrested on July 30, 2020. He was charged with being concerned in the supply of Class As and Class Bs
Gareth Morris, 54, of Eastview Avenue, Greenwich SE18, was arrested on July 2, 2020. He was charged with being concerned in the supply of Class As
Gareth Roy Mathias, 47, Greenhaven Drive, Greenwich SE28, was arrested on April 20, 2020, charged with being concerned in the supply of Class As, plus another offence
Gavin Kallo, 43, of Well Hall Road, Greenwich SE9, was arrested on April 25, 2020. He was charged with being concerned in the supply of Class As and Bs
Jack Lee, 31, of Ludworth Road, Welling, Bexley DA16, was arrested on July 2, 2020. He was charged with being concerned in the supply of Class As
Jamie Hanna, 48, of Martin Drive, Dartford, Stone, Kent DA2, was arrested on June 14, 2020. He was charged with being concerned in the supply of Class As
Kerry Hughes, 53, Wydeville Manor Road, Grove Park, Lewisham SE12, was arrested on June 26, and has been charged with being concerned in the supply of Class As
Landi Sakala, 44, of Yorkland Avenue, Welling, Bexley DA16, was arrested on June 30, 2020, and was charged with being concerned in the supply of Class As
Liam Tullet, 29, of Bloomfield, Road, Greenwich SE18, was arrested on June 30, 2020. He was charged with being concerned in the supply of Class As and Bs
Marc Seymour, 58, of Craymill Square, Crayford, Bexley DA1, was arrested on June 15, 2020. He was charged with being concerned in the supply of Class As
Matthew Exall, 24, of Shirley House Drive, Greenwich SE7, was arrested on April 20, 2020. He was charged with being concerned in the supply of Class As
Nacoli Bravo, 34, of Patterdale Road, Dartford, Kent DA2, was arrested on June 25, 2020, and was charged with being concerned in the supply of Class As
Nhien Dang, 36, of Danson Road, Bexley DA5, was arrested on June 19, 2020, and has been charged with being concerned in the supply of Class As and Bs
Paul Borg, 35, of Frances Street, Greenwich SE18, was arrested on June 16, 2020. He was charged with being concerned in the supply of Class As and Bs
Tjay Burrell, 30, Glendale, Swanley, Kent BR8, was arrested on April 20, 2020, and was charged with being concerned in the supply of Class As and another offence
Tyler Tanner, 23, of Henderson Drive, Dartford, Kent DA1, was arrested on June 17, 2020. He was charged with being concerned in the supply of Class Bs
Miles Headley, 24, of Mount Nod Road, Lambeth SW16, was arrested on June 24, 2020. He was charged with being concerned in the supply of Class As
Will Martin, 39, of Hartlands Close, Bexley DA5 was arrested on April 23, 2020. He was charged with being concerned in the supply of Class As and Bs